Review

Just the title makes this adult dating site sound appealing to me, to be honest. JustHookup.com sounds right up my alley, and it better not disappoint!
At least they are being honest about the fact that they are about casual encounters and not trying to disguise it as a relationship site.  Hopefully that's a good sign…
First Impression
The site is a little busy and cluttered layout wise once you sign up. The video ad in the lower right sidebar can be distracting. The first thing that happened though, was a popup to try to get me to take advantage of this AMAZING, LIMITED TIME OFFER for an adult dating membership: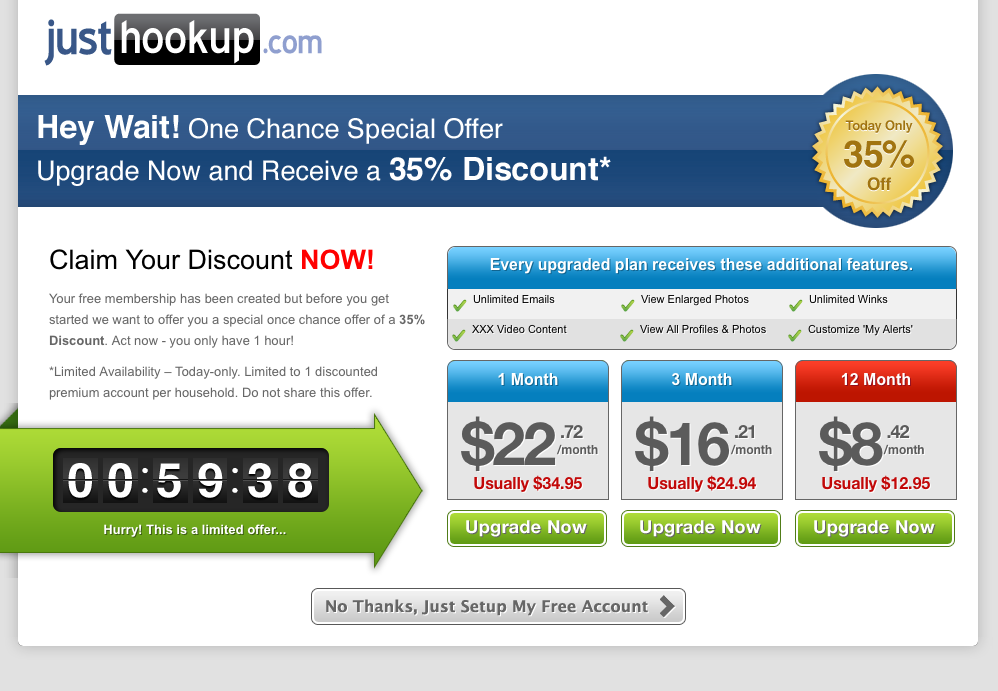 I'm clearly on your site because I want to be, please don't bombard me with a popup about the same deal that will still be running a year from now.
The signup itself though was pretty painless and quick, and from there you can fill in as little or as much of your online dating profile you'd like. There seemed to be quite a few members online, but again, they could just be bait to entice members into paying for their membership. And surprise! You can only contact members by upgrading your membership. Seriously, why even bother with the pretense of a free membership if it's essentially useless other can creating a decent profile? If I wanted that, I'd go create a MySpace.
At one point, I was looking at the emails I had received and when I clicked on mabye, the fourth one, I got this popup: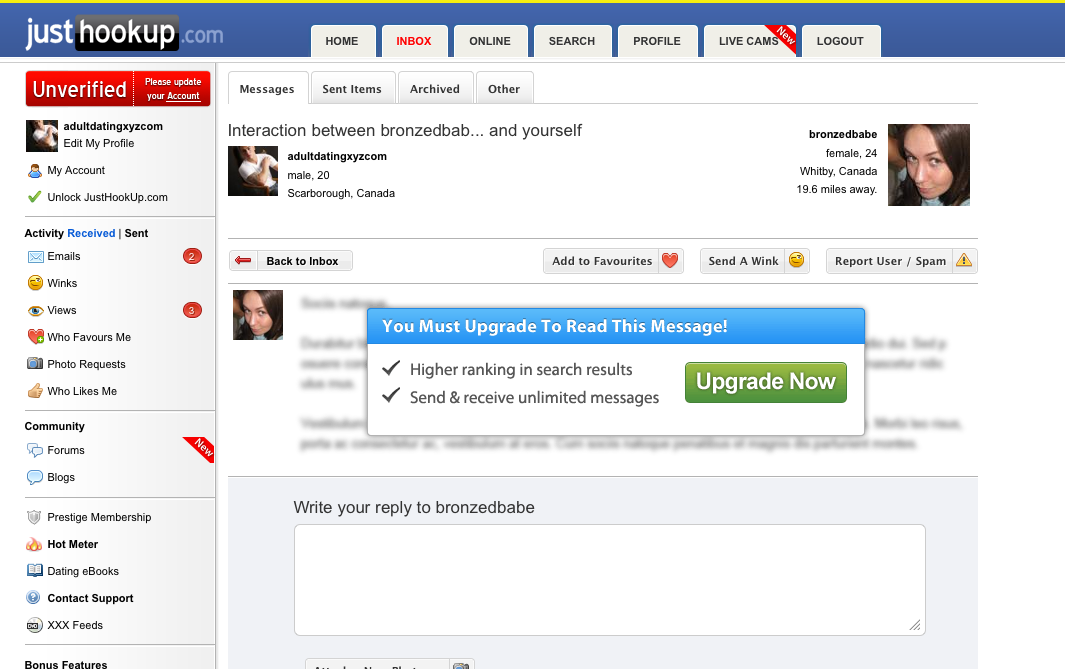 Not starting off too well.
For shits and giggles, a buddy of mine offered to front the initial 1 month fee of $17.47 to see what happens, given that my free profile had gotten 8 emails and 10 views in the half hour I had been active.  At first I couldnt even find where to upgrade my membership, so they lose points there. After I upgraded, things seemed to slow down a bit. From there it took a couple days to get that many emails and contacts. But the ones I did get were pretty hot. Only half responded to my response though.
Cost
Free to signup, pay for pretty much every damn feature * accepts Mastercard and Visa

Plans:
1 year @ $77.64 ($6.47/month)
6 months @ 53.82 ($8.97/month)
3 months @ $37.41 (12.47/month)
1 month @ $17.47
Member Benefits:
anytime money back guarantee
send unlimited messages
view all profiles and photos
view enlarged photos
send unlimited winks
message free members
free XXX video content
Pros
One thing that I have yet to see on any other dating site so far is the ability to set certain images as public, personal or private. Personal images will only be seen by people you add as favorites, and private images will not be seen by anyone. JustHookUp makes note that the private image area can be used to storage images you wish to share when instant messaging. I guess this would be if you don't want your nudes on your hard drive?
Another feature is that justhookup.com allows you to click on the left sidebar to see who winked, viewed, favored and liked you. The idea of having it laid out on the left sidebar like that is probably the only thing I like about the layout, to be honest.
Cons
The layout kind of sucks. Its not particularly user friendly, and its so busy that it is eye-grabbing, but not in a good way.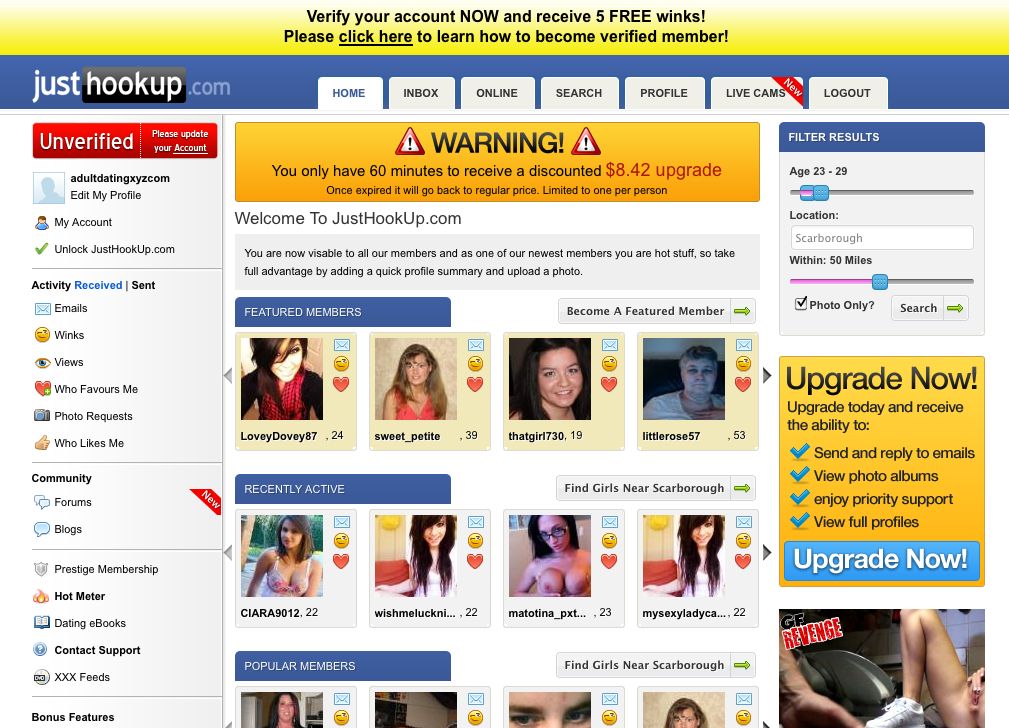 I don't want to be distracted when I am looking for my next conquest, thanks. There's also a ridiculous number of tabs used for navigation, which is mildly annoying.
They have a tab titled Live Cams,but it takes you to another site, justhookuplive.com. From there you have to complete ANOTHER signup in order to join and view the cams. What was the point of hiding it like its part of the main site, why not just be straight up and put it in an ad or listed as an affiliate?
Bottom Line
Basically, if you just want to hook up, then you've got a moderate chance, if you can stand the shitty layout and tedious response times after you pay for a membership. All in all, I had contact with about 6 women, 3 went beyond a couple emails back and forth, 2 were bots, 1 just never replied after her initial reply. Of the 3 I DID make contact with, I met up with one of them and got down, the other two were frigid and said they 'weren't that type of girl.' What did you expect coming to a dating site titled JUST HOOK UP?
Reality: Women lie. They don't want to Just Hook Up.