Review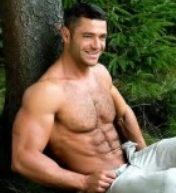 Adam4Adam Review
Well, it's that time of year again when a gay dating site comes up in the rotation for me to review. As I've established time and time again, I am a straight man, although I will and have participated in MMF threesomes – but we dudes never touch. However, since Adam4Adam is a strictly gay dating site for men only, I decided to once again enlist the assistance of my good friend Max. Max is one of my gay friends who has done a few dating site reviews for me in the past, and has always come through with flying colours. He always has a great time, and I foot the bill for the month, so he's never going to turn me down, I believe. Until, that is, he meets Mr. Right, which could be any time, since he's getting so many opportunities with the reviews he does for me! So, once again, here's Max – everything after this sentence is his thoughts and his own words:

Hi everyone! It's Maxy back and ready to give another dating site a try for my buddy Justin. I'd just like to say before I begin that I appreciate these opportunities a lot, Justin – although my monthly budget of lube and condoms goes through the roof! Just kidding – it's worth every penny for the action these sites give to me!
First Impressions
At first glance, I was pretty unimpressed with Adam4Adam. I know it's free on the surface if you want to keep things to a simple search and email functionality, but with all those banner ads and porn ads and flash ads that they've got on there to keep prices down, you'd think some of that dough would end up on the design side of things. Not that design is the most important thing about a dating site, but it certainly helps. As I said, the site is free if you just want to search and email and use their mobile app, so I completed a pretty easy profile and started looking around. To be honest, I kind of wish that the profile was a little more in depth, because the results I got from my initial matching were just all over the place. With a few of the other sites I've reviewed for Justin, the profile process was more comprehensive, and I found that translated into a more accurate results page. However, it didn't take long to see which guys were ones to pass on, and which were the ones I'd be interested in.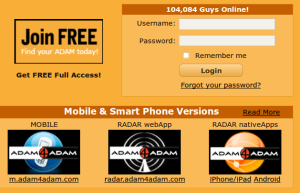 One thing that was really overwhelming on the site was the amount of escorts. They are also encouraged to join the site and pay for a premium search result, so they always come up in your results. They're another reason the site is free – but I think I'd rather pay a little to not have my matches inundated with prostitutes when I am there for some free sex hook ups. One thing I did like about the site was that there was the option to have two profiles – a home and an away profile. The home profile is for where you live, and the away profile is one you can use if you're going on vacation somewhere. Since they had this option, I decided to take a week vacation during the month and visit my brother in Tempe, Arizona. I used my away profile to arrange a half dozen hookups while I'd be down there.
Cost
Like I mentioned above, the cost of the site is free, as long as you limit yourself to the basics. If you want your profile to be a featured result, you can pay more. If you want your profile to link to a website of yours, you can pay more. But you do pay in other ways – namely all the banner ads and escort matches.
Pros
The things I liked about Adam4Adam are the price and the fact that I could make two profiles – one for my home and one for vacations. In fact, while I was on vacation, the six hook ups went really nicely with my visit with my brother. I spent the day s with him, and the nights back at my hotel room with the very energetic studs of Tempe. Frankly, I'm thinking of making a vacation to Tempe a monthly thing, because those boys down there really know how to have a good time. I'm still walking funny, if you know what I mean. But I digress. I also liked the mobile app the site has – it is pretty functional and let me do my searching and emailing while I was out and about. Funny story – once I was emailing a guy from the site while I was on the patio of a pub, and it turned out he was at the same bar on their upstairs patio. Suffice to say, we hit it off that night, and didn't need the site to figure out a time and place to hook up.

Cons
I didn't like how much for sale the whole of the site was. Like I said, the banner ads and escort emails and toy store (pic at left) were just too much. I understand that's how they keep the price down, but it's just annoying and distracting. I'd say about half of the emails I got from other men were escorts. That's a lot of wasted time going through those to get to the legit guys just looking for some casual sex! Frankly, there are better sites that you pay a little to use, but don't have to deal with any of that stuff. Check out my other reviews to see what I mean.
Bottom Line
Adam4Adam has a lot going for it, but it still has a few problems I couldn't overlook. I ended up spending more than average amounts of time to get the same amounts of sex dates I'd get at other sites for less. Free is good, but it's not everything!