Review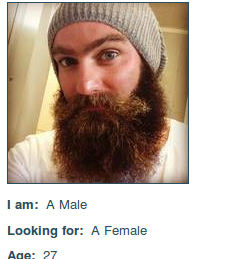 Beardiful Review
Beardiful is a new dating site designed for guys with beards to meet women that like beards, and for women who like beards, to find guys with beards. That's literally it. At first I was kind of curious to see what exactly this site had to offer, but even after digging, it's literally a site for people who base their entire relationship criterion around whether or not hair is on the guy's face.

First Impression
To get started, I had to create a simple account with the site. Unfortunately, I can't really grow a very good beard. Knowing that the site review was next on my plate, I stopped shaving about three weeks before I made my account, but my beard was still pretty unimpressive, patchy, and pretty unattractive. I convinced myself that since the women on this site were looking for beards and nothing else, maybe it didn't matter that my particular facial hair wasn't perfect. Just the fact that I had some growth would be enough.
I signed up with the site with my email address, although I could have chosen to use my Facebook address instead. It asked me to upload my pic and then it was off to the races. The site is pretty basic, all things considered, but since it's free, I guess I can't complain too much that the design and features it has are minimal.
Cost
It doesn't cost anything to join this site. Although it does cost you your time and effort, and honestly, I'm not sure you want to spend either at this dating site. Unless you have a killer beard and are looking for someone that prizes that more than other qualities like, oh I don't know, compatibility, common interests, goals, personality, etc.
So yeah. It's free. In a way.
Pros
Well, if you've got a beard, or are a woman who values a beard above all other traits, I suppose the pros to this site are obvious. It's filled with guys with beards, and women who like guys with beards.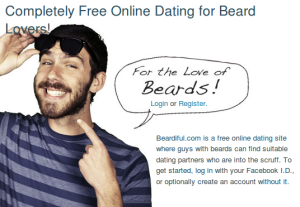 To be fair, I suppose that it cuts to the chase for beard lovers, and guys with facial hair. However, am I to look forward to a time when I'll have to review Boobiful for guys who are looking for women with voluptuous chest accoutrements? Or Boatiful for women who are looking for guys who happen to own a boat? Or NippleRingiful for those of you out there who are turned on more by a person's nipple jewellery than the content of their character? I guess as a jumping-off point, Beardiful starts from a common interest (although it is a beard), but I don't think that's a good place to begin when it comes to looking for someone to date. Of course, maybe that's my terrible beard talking.
Cons
Oh yeah – I'm supposed to wait for this section to talk about the cons of the dating site I'm reviewing. Ah well, I guess I jumped the gun a little bit on that one. To briefly reiterate, I feel like if you're going to use online dating to try to find interesting and attractive people to date, then you should build off a more compatible foundation than a beard. Maybe it's because I'm used to other dating websites that I've reviewed where the algorithms match me up with women based on personality traits, or life goals, or even astrology signs. Maybe it's because my beard was horrible in every sense of the word, and I didn't get much interest. In fact, let's quickly break down the numbers (paltry as they might be) for me over the month I tried Beardiful, shall we?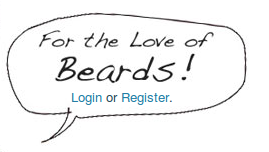 In the 31 days I tried Beardiful, I spent an average of one hour on the site contacting, and chatting with women.
I contacted 103 women, of which 13 responded to me in the email feature on the site.
Of the 13 women that responded, 8 mocked my terrible beard.
Of the 5 that didn't outright mock my beard, 2 made comments that were pretty mean, but in a very subtle, and in many ways, worse kind of way.
The final three women agreed to meet me in person for a first date, because none of them could believe that my beard was as bad as it looked. They all seemed to give me the benefit of the doubt and think my bad beard pics were a result of a low quality digital camera. Or maybe they were just desperate. I don't know. In any case, I got three first dates out of it. BTW, this isn't me: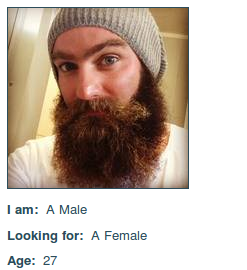 Of the three first dates, all of them were complete failures. I know women complain when guys stare at their breasts during conversation, but I'll tell you what's worse. A woman who can't stop starting at your crappy beard while you're trying to talk about common interests you might have. After all, when a guy is staring at a woman's bosoms, it's because he's attracted to them, and ultimately her. When these girls were marvelling at my splotchy facial hair, it wasn't because they couldn't wait to get me back to their place for some alone time.
It was because they couldn't believe that I was on this site in the first place. And, frankly, I understood where they were coming from.
Although, I should say, that if I were a less mature guy, I could point out that two of the three women that silently judged me for my facial hair had quite a bit of said hair of their own. But I was nice enough not to stare. But I am mature, so I won't bring that up.
Bottom Line
If you've got a beard, I guess you should give it a try. If you're a woman that digs guys with beards, sure, it might work for you. But if your beard isn't at least as good as Zach Galifinikis', I'd give this site a pass. Sure it's free, but your time and effort is worth more than this!