Review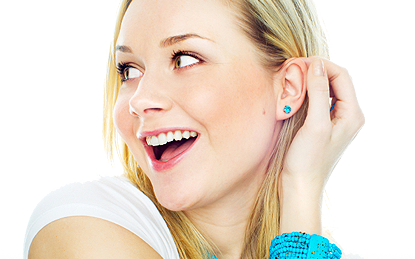 Chemistry Review
The last dating site I reviewed was such a failure in terms of my time and energy and the results I got from it, I was really anticipating giving Chemistry a month long evaluation. A few friends use the site and say that it has done a good job at finding them really compatible matches, and since word of mouth and a good recommendation from friends is always a huge motivator when it comes to dating sites, I really looked forward to seeing if it was everything they said it was. I have already reviewed Match.com, which is the parent site for Chemistry, so I knew going in that they'd probably have a lot in common. In fact, I'm not really sure why they felt they had to splinter off into two sites, but whatever. Bring on the ladies!

First Impressions
The site was impressive right off the bat, in terms of design and slickness. It was clean, easily navigable, and you could tell that the people at Match had put some money and time into the designers pockets. The thing I liked most about it was that they were clearly trying to keep things on the site geared towards dating. A bunch of "dating" sites I've reviewed lately have been over run with people using it for sex hookups. It looks like this sort of thing is actively discouraged by Chemistry, which I appreciated greatly.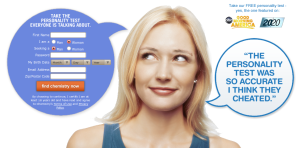 The first thing I had to do was fill in my rather extensive initial free profile. The first 14 days at Chemistry are free, and that is just awesome. It lets you look around and try the basics at the site to see if it is the kind of tool you'd get a lot out of. I respected that. Most sites' free trial memberships don't last anywhere near that long. So, the profile took quite a bit of time, but it didn't bother me, since I knew that the site's resident matchmaker, Dr. Helen Fisher, is all over the site, touting how important and scientific her patented matchmaking system is. I won't go into the details of all the profile's elements, but suffice to say it's one of the most comprehensive in the biz.
Pros
Since I had the budget to buy the month membership, I went ahead and got it so that I would have full access to the site and be able to accurately review all the features and functionality the site had to offer. After filling out my profile, the site began giving me matches, but more than that, helpful little hints all along the way. While browsing and searching and emailing women, the site would have little pop ups that gave helpful little hints about how to proceed. This wasn't necessarily any new information to me, since I've been internet dating for quite some time and know the ins and outs. But for someone new to the process, these little tidbits could be really helpful.
Another thing that was nice about the site was the blog. There were tons of articles and interesting reviews and stories posted by other members and the staff at Chemistry. Interesting reading if you're finished chatting and emailing with people for the day. I started emailing women in my area that the site recommended, and to be frank, their compatibility system was only so-so. Some of the women they matched me with were right on the money, but some seemed to only be on my list because they lived in proximity to me. I found that by searching independently that I found more women that were suitable matches than the site did.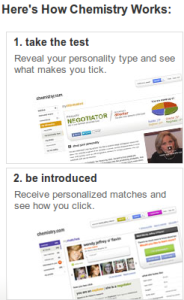 One definite advantage to this site that I should mention to all my gay readers is that the site is not hetero-centric. You don't have to go to a gay only dating site anymore. Some of the more forward thinking sites recognize that they'd be smart to be inclusive, and Chemistry is one of those.
Cons
I found that the majority of the women on the site were at least 35 years old or older. Not that I have anything against older women, but in general, I prefer to date a woman in her mid twenties. These were few and far between, and the ones that were on there weren't necessarily compatible with me. Lastly, the final downside to this site was the cost. It definitely runs in the high end of similar sites, despite not having the features that other, less expensive sites have. Also, I found you that unless you specifically email the site and cancel your membership, they will continue billing you every month. I found this out the hard way. I only wanted the single month membership I paid for, but when I checked my credit card, I realized they had gone ahead and charged me for the next month. Hassle. Here's a breakdown of their membership costs:
Cost
Free 14 day trial membership
1 month = $49.95
3 months = $33.32 per month ($100.00)
6 months = $26.65 per month ($160.00)

Bottom Line
For a dating site, Chemistry is pretty good. I spent an average of a half hour each night searching for and setting up dates with women. I went on 19 first dates over the month, and that led to 4 second dates with ladies I felt more compatible with. Of those 19, I'd say that 5 I had to find myself (without their matchmaking system), and of the 4 that were especially compatible, I had found 2 of them myself. So, i guess what I'm saying is that their system isn't perfect. It did come through with a few good choices, but in the end, it was up to me to find the really good ones. As I mentioned above, though, if you're new to online dating, this site can be helpful, despite its relatively high membership costs. However, if you know what you're doing, there are equally good or superior sites out there for less money. My advise is to shop around a bit!