Review

ConnectingSingles Review
ConnectingSingles is a free online dating website that I was curious about ever since I did some preliminary research on it in anticipation for my review. The trouble is, you can't really ever go by the testimonials that are on the website itself, since obviously they'll only use very favourable feedback on their site. Alternately, you can't really go by testimonials other places on the web either, because they could either be from rival dating sites, or complete whack jobs. So, I decided to forgo all my preconceived notions that I got by doing my advanced reading, and went into the review with a fresh, open mind. Well, not exactly an open mind, since I was also on some serious painkillers over the month I reviewed this site, due to some rather pesky and impacted wisdom teeth that I had to get extracted. However, despite my high as a kite mind and black and blue cheeks, I went into the month's evaluation fully expecting to meet some new, interesting women.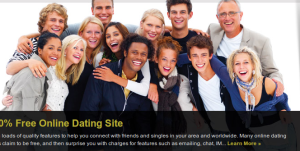 First Impressions
I'll tell you what my first (and as it turns out my lasting) impression of ConnectingSingles was: and the is that this site is not about hooking up singles for possible dating or relationships. It's nothing more than a delivery system for a bunch of ads that are meant to generate money for other products. It's like the "dinner" you get invited to by a friend that turns out to be a night long sales pitch for whatever pyramid scheme they've fallen prey to. Well, the dinner ain't free if you have to pay with your time, and invest in bulk cleaning products, amigo.
One thing that I did like during my first look around the site was the plethora of blogs and articles. It seemed like a lively place with a bunch of interesting and informative stuff to read. Plus, some of the interactions from members was interesting, and sometimes racy, and sometimes downright shocking. In fact, the more I read, the more I realized that the forums had absolutely no moderation whatsoever, and there were some real creeps and racists and misogynists and just downright losers on there simply to push people's buttons with vile contributions.

Looking around a little more, I have to say that the amount of stuff on the site is too much. It's all well and good to have distractions on a dating site for people who want to take a break from chatting and surfing for people to ask out, but this site is absolutely ridiculous. In addition to the dating side of things and the blogs and forums and articles, this site has videos, games, a music section, a movies section, a book section, top 10 lists, puzzles, quizzes, tests, compatibility challenges, photo galleries, a birthdays section, and a section devoted to advertising get togethers people are throwing. This was just overwhelming to me. Like I said before, I'm all for a free site to expand from a bare bones search and contact functionality, but let's not go overboard. Plus, each of these features I mentioned were pretty hastily and shabbily put together on the site. Frankly, I would have preferred half the features with twice the effort and design put into them
Cost
The site is absolutely free, unless you consider the psychological price of having to ignore a lot of banner ads and other constant advertisements a price. Which I do.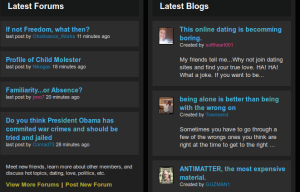 Pros
The main good thing about this site is that it is free. After using the site for an hour or two the first night (admittedly under the influence of the pain killers – so it may have only been ten minutes, or maybe twelve hours)Â  I began choosing and emailing women that were in my area and that I found attractive. Although to be fair, I found pretty much anything I could focus my eyes on for more than a second pretty attractive. God bless modern pharmaceuticals. Almost immediately I started getting responses from women that were online at the time, as well as from independent women that saw my new profile on their search page and who found me interesting and attractive. Over the month, I probably spent an average of an hour a night on the site, and sent out a total of 109 emails to women seeing if they'd be interested in a first date. This resulted in 18 first dates, all but three of which showed up.

Of those 15 first dates, I'd say that I met two women that I would see again.
Cons
To be honest, the problems with the site are pretty  significant. Simply in terms of return on my investment of time, only meeting to compatible women over an entire month of sustained effort is pretty pitiful. I blame the fact that the matches the site sets you up with aren't really based on compatibility, in as much as it is based on proximity. Plus, the profiles you fill out themselves are pretty basic, and don't really give any match making algorithm the chance to hook up people with actual common interests. Also, as I mentioned before, the site is inundated with ads and banners that are annoying and detract from looking for interesting people. That, and the fact that the multiple other features the site has are all half-baked, in that they aren't well conceived or executed.
Bottom Line
Believe me, I was more disappointed than anyone with the meagre offering this dating site gives. I love a free dating site a lot, since it means more money to spend on the dates. However, in this case, I would have gladly paid over some monthly charge if it meant I didn't have annoying banner ads flashing at me everywhere, trying to get me to buy this or that. Also, the blogs and forums are filled with losers that are determined to offend.
If you want a great free dating site, then try FreeLove. It's the best no-cost online dating site I've reviewed yet.