Review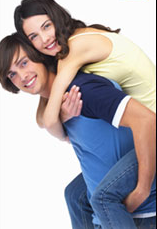 DateHookup Review
I was pretty disappointed overall with DateHookup.
The reason I've been summarizing my feelings about the sites I've been reviewing right off the bat is because I've been getting feedback from a lot of people who read this site to determine which online dating sites they should use. The universal criticism I get is that it takes me too long to get to whether the site is good or bad. In my defence, that's because I want to give an actual review that is thorough and detailed. However, to try to please more of my readership, I'll start giving my bottom line opinion at the top of the review. For all you more detail oriented people out there who aren't suffering from ADHD, here's the full review:

First Impressions
The first thing that struck me about this site was how similar it seemed to me to a site like PlentyOfFish. They're both free, they both have a below average web design, and they are over run with millions of profiles. I should point out that just because a site is free doesn't mean it has to be terrible.
I recently reviewed a site called FindLove that is also free, but since it is relatively new, it doesn't have many of the problems that DateHookup has. But we'll get to that a little later. The first thing that DateHookup asks you to do is fill in your profile information. It was only a couple minutes worth of inputting, and frankly I found it to be rather basic. After all, this is a relationship and dating website, not a sex dating website. So you'd think they need more than what essentially boils down to your area and what gender you're looking for. That's all you might need if you're looking to get your naughty bits wet, but if you're after initial compatibility, it's definitely lacking.
After finishing up the profile creation, I was brought to a search page with about fifty results. There were twenty pages after that, all filled with fifty women each. At first I was pleased, thinking that's a lot of girls to date. But as I started going through them I realized that more than half were either abandoned profiles, fake profiles used to make the site look more full than it is, or prostitutes. These are not new problems, especially since the site is free. And look, I'm not begrudging or judging anyone';s living, but having to go through so many escort profiles was a chore. Plus, it seemed like a good majority of the women who weren't prostitutes were still using the site as a sex dating tool. I'd say out of the 100 profiles I looked through that first night, only about fifteen were legitimate women that were actually compatible on a basic level, and were there for dating.

Pros
Basically the only thing that is good about this site is the fact that it is free. I spent about a half hour each night using the site, trying to get through all the profiles that were a waste of my time and contact actual women looking for dates. One of the most frustrating things is that what they consider to be a "local" woman can be a girl that lives up to a hundred miles away. Sorry, dude, but that's not local. I ended up sending emails to 109 women over the entire month, and 32 got back to me. I also received emails from 21 women independently. Of those 21, only eight were my cup of tea. Most of the rest were escorts looking for business. I set up sixteen first dates over the month, and fourteen of them actually materialized. Because the profiles were so brief and uncomplicated, it took going out on the date to see if there was any actual compatibility. Of the 14 first dates, there were three girls I'd see again. In other words, I spent about fifteen hours on this site to meet three women. That's not a good return on my time investment.
Cons
I suppose I've already touched on most of the things I didn't like about this site already, but I'll just reiterate them here in case you missed it. First, the profiles on the site are too basic. Second, they consider "local" ladies that live way too far away to make a date reasonable. The site is over run with escorts looking for business, and a lot of the other profiles are abandoned or fakes. Also, I had a few nights where my emails and inbox seemed to act a little funny. Suddenly there would be mysterious messages that weren't there before, and sometimes messages I hadn't deleted would just go missing. All my queries to the site's customer service address were never answered.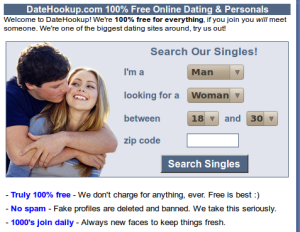 Also, I did a little research of my own about the site, and it seems that if you decide to leave the site, it is hard to get them to take down your profile. I'm not sure if this is because they want all those abandoned profiles on there to boost their membership numbers or what, but that was a real turn off.
Bottom Line
I know everybody likes something that is free. I sure do! But in this case, you'd be better off either finding a low-cost, legit dating site, or a free one that doesn't have the problems that this site has. LIke I said, I met three pretty interesting women, but with all the rigmarole and dead-ends this site gave to me in terms of women, it was a waste of my time. Also, it seemed to me like this site was slowly turning into a sex dating site, based on all the men and women that were obviously not looking for a potential relationship, but rather just a one night stand. If you're looking for a new prostitute to have sex with, this is a really handy site to have on hand.