Review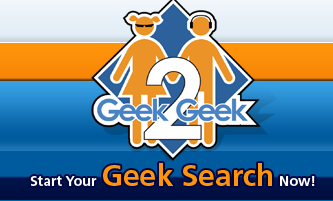 Geek2Geek Review
Geek2Geek is an online dating website that focuses its matchmaking prowess on connecting nerds, geeks, gamers, trekkies, weirdos, cosplay enthusiasts, and basically anyone that enjoys anything you might find at your larger comicons. I've always been a huge fan of most activities and hobbies that one would associate with being a geek, so I was looking forward to trying this site and meeting women that not only appreciate those qualities in a man-child, but also engage in them too. Plus, having been to a couple of comicons in my past, I knew that there are some truly outstanding ladies who are willing to dress up like Princess Leia or Supergirl or whoever, and that's just the sort of thing that gets a geek like me drooling heavily.

Before logging on, I put on my Star Trek Vulcan ears, had my official Harry Potter wand beside my keyboard, and had a bunch of my Lego creations predominantly featured behind me on my many presentation tables. After all, if these girls want a geek, it's time to show them who the King of the Nerds really is!
First Impressions
The first thing I did when I went onto Geek2Geek was laugh at some of the guys that came up on the front page as examples of the men using the site. Now, I'm not great prize, but some of these losers make the Comic Book Guy from The Simpsons look like Hercules. I immediately felt like if these guys were my competition, I'd have no problem getting myself a little nerd canoodlings. I filled out my free profile, and started to wish that the site had spent a little more money and effort on the design and layout of the site. It's not the worst I've ever seen, but you'd think that a site that is geared towards computer nerds and designers would have a little more style and flash to it. Ah well…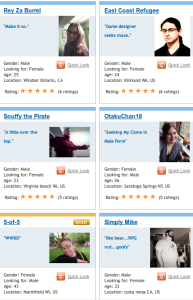 Once my profile was created, I started browsing through the local women that were looking for like minded geeks like me. These girls were almost all cute and cool, which I liked immediately. To be honest, I'd say that more than half of them were a bit on the heavy side, so if you're a chubby chaser that likes nerdy women, this site has a lot to offer. Myself, I prefer a woman that is fit and fun, so it took a little more searching to find girls that were more my cup of tea. To be honest, it was fun just looking through these ladies' profiles for all the cosplay costumes they put up of themselves. Some definite eye candy there. I found out that to send messages (or read messages sent to me) I had to upgrade to one of the two paid membership options the site has. Here's the breakdown of the pricing:
Cost
Basic Initial Membership: Free (allows you to search and that's about it)
Silver Membership: $20.00 / Month (allows you to search and send/receive messages)
Gold Membership: $25.00 / Month (allows you to search and send/receive messages, as well as gives you priority placement on searches, and allows you to blog on the site, as well as upload videos of yourself
Pros
I decided to go with the Silver membership since I was only going to review the site for a month, and wouldn't have time to start a blog.  I started emailing women that were interesting and attractive and began getting responses almost immediately. unfortunately, a lot of the women never got back to me, and I figured out why. Their profiles were either fakes or abandoned. I knew some of these women were too good looking to need a dating site. However, there were a bunch that got back to me, and about a dozen other women that contacted me independently. Unfortunately most f them were not my cup of tea, as I mentioned earlier. Altogether over the month, i sent out about 108 emails to women to see if they wanted to go out, and I got responses from about 50%. Of those that responded, I ended up making plans to get together with about 15 of them, and all but two showed up for those first dates. As far as return for time and money goes, I'd say this site was below average.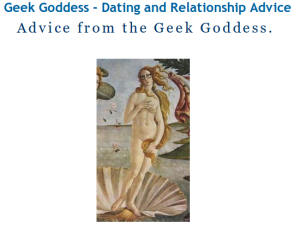 Of the women that showed up for the dates, most of them were very nice and very nerdy. It's one thing to say you're nerdy, but I think what I'm looking for in a woman is to be nerdy, and yet sexy and clean. Some of these girls put up their sexiest pictures of themselves, but then when they showed up for the date, it smelled like they came right from a marathon gaming session. There were three especially awesome women I met through the site, and plan to see them again.
Cons
The problems with this site are pretty considerable, unfortunately. First of all, I found that the membership was low, in terms of women. It's not surprising that on a geek dating website the men would outnumber the women, but this was ridiculous. Some of the women I did contact said that they were overwhelmed with the emails they'd receive from men on the site, and couldn't keep up the correspondence. I guess if you're a woman, that's good, but as a guy, i found that the same women kept coming up on my search results again and again. Frustrating. Also, I found the site was too basic. Like I said before, you'd think a dating site geared towards computer nerds would have some design style behind it.
Bottom Line
I had a lot of hope for this site, but ultimately it was a pretty big sausage fest. I did meet one really cool, hot woman, but that's a low return on investment for a month's worth of looking. So much for my dream of getting an orgy of women looking like Leia in a bikini together. Ah well.