Review

LilyDating Review
Do not go near LilyDating. It is a scam site from start to finish. If you take away nothing else from this review, just take that. I'll get into the whys now. But first, I feel like I should point out that I was really, really looking forward to trying out LIlyDating for a month and seeing how good it was at hooking me up with gorgeous Asian ladies in my area. It's no secret that I find Asian women to be some of the most gorgeous creatures on Earth, and a site that is specifically geared to the Asian community seemed like just the place to get my fix. I have enjoyed other Asian centric dating sites like AsianLoverSearch immensely, so you can imagine how disappointed I was when LilyDating turned out to be such a disappointment. Ah well, Confucius always said, "You can't win them all".

First Impressions
At first, I was in heaven. There were tons of gorgeous Asian women on the front page, and throughout the initial tour through the website. The site is definitely one that originates in a foreign country, China I think, because you can tell they've used a very poor online translation tool for the English version. They were encouraging, if not altogether grammatically correct when they wrote, "Come on! Being on your real love trip right now!"
Well, that's all I needed to see. I signed up for the initial free profile and entered in all my information for my initial free membership. He profile was pretty rudimentary, and didn't really fill me with much confidence about how accurate their match making system was going to be. In fact, I wasn't really sure if this was going to be a dating site or a sex dating site once I got going. They seem to present themselves as a dating site for people seeking possible relationships, but once my free profile was in, it seemed like I was getting a lot of emails from escorts and women looking for sex.
I was a little leery at first because most of the pictures I was seeing as the profile pics of the women on the site seemed very familiar. And once I started taking a closer look, I realized I was right. They were pics taken off the internet from model sites and soft-core bikini sites. In other words, most of these super hot Asian women profiles were fakes.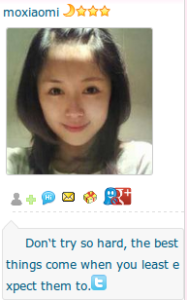 I didn't let that totally turn me off the site, since I've been on plenty of sites where there are fake and broken and abandoned profiles. That doesn't mean there aren't a lot of legit girls on there looking for dating. I signed up for their monthly membership so I could get full access to the entire site, and hopefully find some of these legit ladies through some intrepid searching.
Cost
$19.95 per month
Pros
Nothing. This site is nothing but a scam site that is determined to get money from unsuspecting people looking for love. I went in with the best intentions, but the whole thing was shady and terrible from the word go. I guess if I had to say one good thing about this site, they've chosen a lot of really great fake pictures for their fake women profiles. Very sex. Oh, and their billing department is very good at ignoring requests to have your membership cancelled.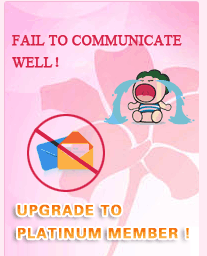 Cons
Where to begin? Well, right off the bat, like I said, the translation to English is just laughable. Actually, after the first few pages, it isn't even laughable anymore. You struggle to understand what the site has, and where to go, and the navigation is just confusing. The designers have obviously put this thing together in a slapdash manner, and there is very little thought or style to it. The profiles are all fakes as far as I could tell, in that none of the women that seemed to be possibly legit emailed me back. There were some obvious fake robo-replies that were sent to my inbox, but I could tell those were fake right away.
Another thing that raised alarm bells for me was how insistent the site was that I upgrade to a paid membership once my free profile was created. Most sites that give you a limited free profile aren't quite so insistent and you get the feeling that they're just interested in getting that credit card number and then forget about you. In my case, this is exactly what happened. After two weeks I could tell this site was going nowhere so I started writing the site's admin and customer service address to get my membership cancelled. No replies at all for the first week. Finally, a lawyer acquaintance of mine contacted them on my behalf, and that started getting some reaction from them. Frankly I was surprised they didn't charge me for a second month even though we were considering legal action. My guess is that for people who don't have lawyer acquaintances, this would be a nightmare.
Bottom Line
Stay away from this site. There are plenty of dating sites out there, Asian-centric and otherwise, that are far superior. This site is nothing but a scam and a bad experience waiting to happen to anyone lured in by the albeit gorgeous yet totally fake pictures and profiles. I highly recommend using a site like AsianLoverSearch if you're interested in only dating Asian people. Although, there are plenty of other sites out there that you can use where you can chose Asians in your search parameters if you're interested in dating Asians as well as other cultures.

However, if you feel like living dangerously and trying this site out for yourself, like if you are Asian and can read the Asian version of the site, then I highly recommend you stick to the free membership. Like I mentioned earlier, getting out of their credit card system was a big hassle, and I think would be even worse for someone who doesn't have a lawyer contacting them on their behalf.