Review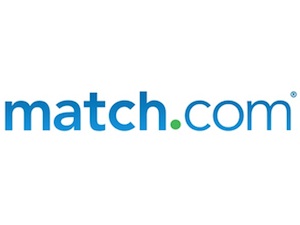 Today is your lucky day Match.com! Before I get to my review, I feel the need to point out that reviews are relative. My experience on one online dating site might not match yours, simply because we'd have different matches. The reviews you read here are all based on my general opinion. Feel free to find out for yourself, or if you want to read about some of my actual dates, hop on over to my blog…
First Impressions
While the main layout and color scheme of the site may not be all that appealing, it more than makes up for it with content. They've got more than 15 million members, clearly they can't ALL be wrong! The signup process was done in a flash, and from there I get to the homepage: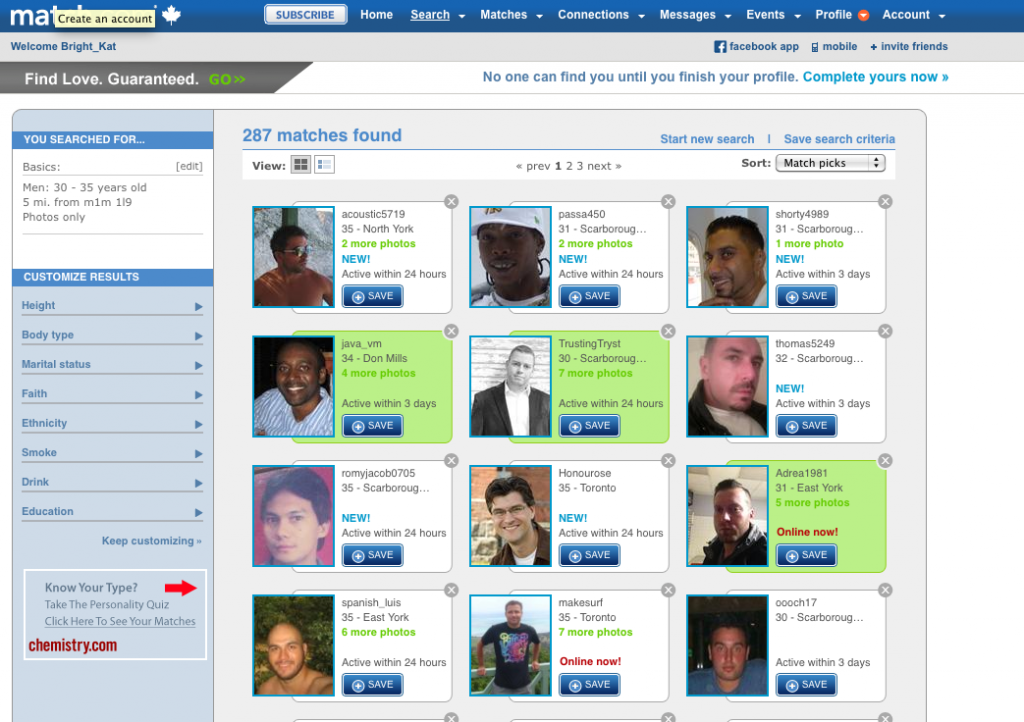 From here I had the option to fill out more of my profile, or start looking at matches. It is best to fill out as much of the profile as possible to get the best match possible, but not mandatory, as you will still have matches.
Once I finished my full dating profile, I used the list of matches they provided on my homepage to see what was available, and what type of women could be found in my area. Some of them were smokin'! From this area, I initiated contact with about 5 of them, and heard back from 2. Of those two, after more discussion, we realized we were incompatible. From here I used the Advanced search to find more matches with moderate success.
I even paid for a one month Subscription at $34.99 to be able to fully test the features of this site. If you choose to become a paid member for ANY period of time, I feel the need to point this out to you: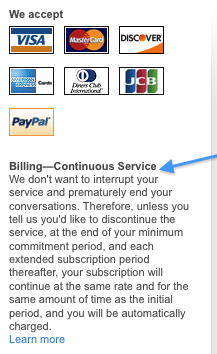 If you do not contact them to cancel, you WILL BE BILLED AGAIN ONCE YOUR INITIAL SUBSCRIPTION IS OVER. FOR AN ADDITIONAL PERIOD. Yes, I wrote that in capitals intentionally, to make sure you don't make the same mistake so many others have. If you don't want to be a member anymore, make sure you cancel!
Cost
Match.com has some very detailed subscription plans, and a lot of detailed options for user profiles, which is awesome. Here's the breakdown:
Free initially, pay to Subscribe
Rates:
BEST VALUE PLANS (full mobile access, match.com guarantee, read email notification, first impressions, highlighted profile)
6 months @ 19.99/month
3 months @ 23.99/month
STANDARD PLANS (full mobile access)
6 MONTHS @ 17.99/MONTH
3 months @ 19.99/month
 1 month @ 35.99/month
Subscribers can access the following:
stir events by match
contact other singles
instant messaging access
send & receive email
read & reply to emails by mobile
remove members from view
see whos viewed you
one click search type
Members can access the following:
receive singled out matches
search for matches
create profile and appear in search results
post pics
send winks
mobile access
text alerts for winks and emails
Pros:
The great thing about match.com is the ability to be free with how much detail you share with other users. Having trouble thinking of what to put in certain profile sections? Match has little blurb examples to make sure you get your best matches. There's also the ability to upload specific types of pictures, which helped a lot in the searching process. I don't want to see ten different pics of your face half obscured by your dog, sweetheart.
Cons:
The site can be a little cluttered at times, and there is a such thing as too many options, especially when it comes to the types of pictures you can upload and into what categories: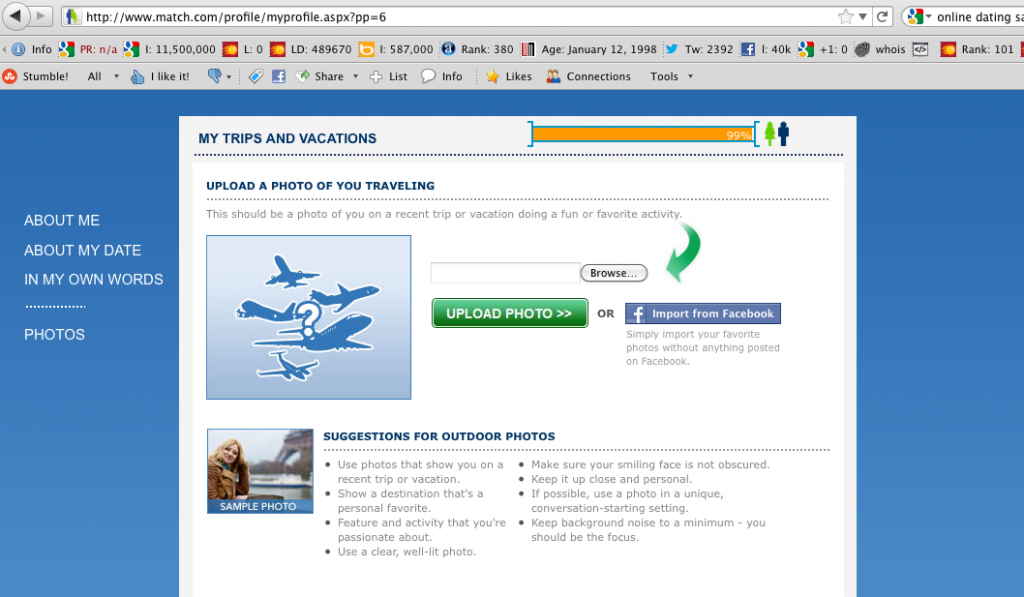 Another problem is that unless you upgrade from a Member to a Subscriber, you have a very limited access to the user database, and you are unable to communicate with the matches. You can however, see who wants to get in touch with you or who is interested. Kind of like making a fat kid stand outside a bakery, if you ask me….
The Bottom Line
I did pay for an online dating subscription, so I had more access and opportunity than those simply using the site for free. I would say that made a huge difference in my success rate with Match.com.  My overall total was 10 initiations, 12 conversations, and 3 dates. 1 date multiple times. I mean, we went on numerous dates and we exchanged firm handshakes at the end of the evening.
Reality: Got laid, would use again.