Review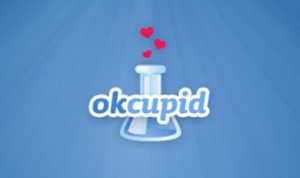 OkCupid is definitely one of the better dating sites that I have researched so far. The problem is, I don't see it being geared to hooking up as much as is it towards long term relationships. So keep in mind what I am looking for in these reviews and what you are looking for, may be VERY different. I have a friend who is looking for long term on this site, and you'll soon be able to check out my blog for one of his more recent dates.
First Impression
The majority of the content is free for all users to access, and there are minimal ads to be annoyed with. The layout of the site is fresh and clean, without looking too basic. Two neat features I noticed were Quiver and Quickmatch.
Quiver is is an automated matching system used on the site, that will automatically choose a few of your highest- rated matches and show you a brief profile summary of each of them. You can decide from there whether you want to see more, or find another.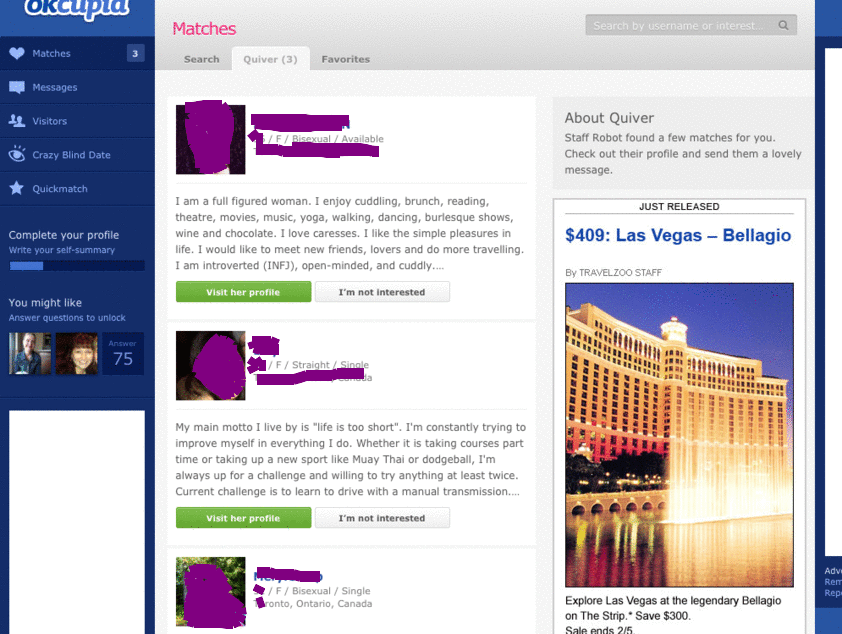 Quickmatch generates a basic match for you based on what you filled out under What You're Looking For section. The difference between this and Quiver is that this feature will show you a single user, and include a slider with their uploaded photos, your match percentage, and their basic information. (see image below)
This is a pretty sweet feature, as it can show you exactly how you and another candidate match up.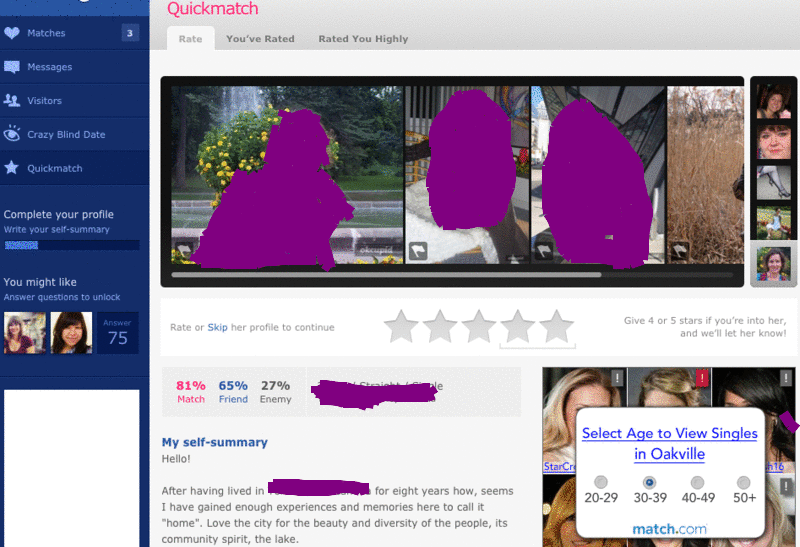 Unfortunately, the women I tried my lines on weren't all that interested. A lot of them seemed to want a 'relationship.' I initiated contact with 5 women who seemed DTF, but only heard back from two. One I ended up having dinner with, who then waxed on about her ex boyfriend and I bailed. I paid the check like a gentleman though, to show her that we aren't all scum. I had women contact me, but they all wanted to play that back and forth get to know you game, and I really wasn't down for it.
COST:
Free to join, pay to upgrade. *accepts visa mastercard or amex*Â 
Upgrade to an A-List Subscription
$9.95 for one month
$7.95 for 3 months
$4.95 for 6 months
Benefits of an A-List Subscription
see full list of who has rated you highly
browse anonymously and see visitors
search by attractiveness, body type or personality
change your username
remove ads
Pros:
There's a neat feature called 'My Best Face' that will help you choose which of your uploaded pics is the best of them all, and the rules for photo uploads are clearly stipulated as you upload. You are also able to create your own Quizzes and Tests for fun, I guess to see what type of personality you have? Personally, I could care less about the personality, but moving on…
The site also allows you to rate people, and part of the matching process is numerous, seemingly random questions that you can designate levels of importance to in regards to your matches responses. The more you answer, the better you get matched. I can see why this is a top dating site, since its very well organized.
Cons
The only big flaw I have found is that section where you fill in questions and rate the importance of other members answers. This clearly shows its all about compatibility and finding a long term mate, which is great, and I have read a lot of success stories from OkCupid. These questions though, just DO NOT END!!! I spent literally 45 minutes answering them, and I still wasn't done. The profile pages are a little basic, but I guess that's where those questions come in to help find matches.  The navigation isn't overly user-friendly, as sometimes it can be a little unclear until you recognize the icons easily.
Bottom Line
It has a simple layout without looking like it was one of the first webpages ever made, and its easy to navigate.   The only major downside is that it takes a significant amount of time to fully complete your profile. By allowing members to create their own tests and quizzes, you can also get an idea about their personality that you don't get from a simple profile page.This is definitely one of the best relationship dating site options out there, IF you are willing to invest a significant amount of time filling out your profile. If you just want to get laid, you are better off checking out some of my other reviews…
Reality: No Booty for this Pirate unless you invest lots of time and effort.