Review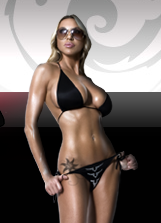 Perversions Review
Perversions is the perfect site for people whose sexual proclivities run a little kinkier than most of the vanilla majority out there. Speaking on behalf of myself, I couldn't wait until Perversions came up in my review rotation, because I have always had a very kinky side to myself, and have always been the kinkier person in any long term relationship I've been involved with. It's always a disappointment to meet someone and click, only to find out they don't approach anywhere near your level of perversion. It's not even really perversion, if you ask me. It's just an open mindedness and willingness to try new and exciting things sexually. Pushing boundaries, and experimenting with power, dominance, kink, fetish, role playing, costume, toys, and all the other fun things that make a sex life interesting after the regular positions have run dry.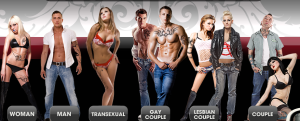 Obviously if you're going to try any new sexual perversions, the thing to remember is safety first. Look around on the interenet and find guides that insure that your first time trying something extremely kinky isn't your last time. Safe words, conversations before hand, first aid kits, and lots and lots of lube and conversation during your explorations are key. But take my word for it – you won't regret opening up your repertoire to new and kinky things. However, if your current partner doesn't feel the same way, then Perversions is definitely a place to find people who do! And the best part is, they don't want commitment – they just want the sex! Now let's talk about my month long experience trying out Perversions, shall we!
First Impressions
As soon as you go to Perversions home page, you are  presented with a really high quality website that clearly has some money and talented designers behind it. The site is easily navigable, and has really, really good looking models up there to guide you through your initial sign up process. Your initial membership is free, and they take their time getting you to fill in the blanks when it comes to who you are and what you're looking for. It took me about ten minutes to go through all their questions, and then they brought me to the search page where their algorithm had picked out about three hundred local kinky women for me to look through. It was glorious.
Each woman was hotter and kinkier than the next, and all their profile pics left very little to the imagination. But, as hot as their pictures were, the best part was reading through their profiles and finding out what sort of perversions they were looking for in their sex dating. If you're a fan of erotic fiction, this is a gold mine for you, and the fact that these girls are real, and expressing their actual desires just makes it even more erotic.

I started out with about twenty five women who sounded like they wanted to explore the same sort of kinks that I did, and began emailing them all pretty much the same sort of introductory form email introducing myself and seeing if they'd be interested in perhaps hooking up. After about forty minutes of looking around and emailing, I had to leave my computer and meet my friends for a birthday dinner. When I returned about two hours later, I saw that my Perversions inbox was filled with a bunch of responses from a lot of the women I had contacted, as well as completely unsolicited emails form other women. Before the site would let me read what they had to say, though, it made me upgrade my  membership form my free one to a paid one.
What's new, right? It actually didn't bother me too much, since almost every reputable sex dating site out there requires a fee, and the fees at Perversions were among the most reasonable I have encountered. They basically make you choose between two memberships, and here is how they are charged:
Cost
| Gold Membership | Silver Membership |
| --- | --- |
| 149.99 for 1 years (12.50/month) | 1.95 for a 3 day trial |
| 69.95 for 3 months (23.32/month) | 59.95 for 3 months (19.98/month) |
| 34.95/month | 29.95/month |
The Silver Membership includes the three features:
three month get laid guarantee
limitless search function
limitless emails
The Gold Membership includes:
all the silver membership features
webcam functionality
xxx movies (thousands all for free)
group discussion boards
online forums

I decided to go with the Gold Membership since it was just a little more than the Silver, and got me full access to everything the site had to offer. Even so, it was really a pittance compared to the amount you'd have to spend meeting kinky people at fetish clubs. Just one night of buying drinks for a sexy woman that might not even go home with you could end up being more than a full month at Perversions.
Pros
I like to keep the exposition in these reviews relatively P.G. rated, so I can't actually get too much into the ins and outs of my month long exploration of my sexual limits and fetish nights, but let me just say this. Remember at the start of this review where I talk about wanting to meet someone for once and not have myself always be the kinkier party? Well, that was not a problem! I got together with a grand total of twenty one women over the month, and tried everything from S&M to role-playing and everything else I've ever wanted to try. And believe me, as long as you take the precautions I mentioned earlier, it is an incredible experience. Letting yourself feel the sliding line between pleasure and pain, and doing the same for someone else was especially eye opening to me. And the best part? No matter how kinky and depraved things got (and thank god for every time it did), I knew I never had to see the woman again, because it was a one-night hook-up! If nothing else, use this site for a month and learn more about yourself and your sexuality that you ever thought possible!
Cons
The only down side to this site in my experience is that I was constantly being asked out on sex dates by transsexuals. I don't have any problem with transsexuals, but simply am not interested in a sex date with them. I guess I just have that look that attracts them. Ah well, a small price to pay for such an amazing experience.

Bottom Line
If you want kinky sex with new people or want to explore your fetishes with random hookups, Perversions is unbeatable!