Review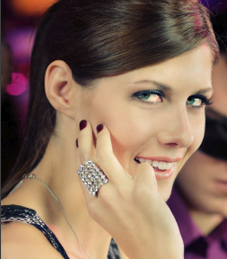 PokerRomance Review
I was kind of interested in trying out PokerRomance since they purported to combine two of my favourite hobbies. Namely, online poker and online dating. I have a bit of an addiction to both, although one has ended up costing me far more money that the other. Namely, all the dough I've blown assuming that no one can beat my pair of fours. However, since I am always in the opinion that common interests are a great place to start, when it comes to meeting new people for potential dating online, I was looking forward to being connected with women who also enjoy the game of poker. Who knows, maybe we'd end up splitting the pot, metaphorically speaking.

First Impressions
From the outset, I'd say that this site was a pretty big disappointment. I'd like to specify that I say disappointment and not scam, because while it did not really wow me in any way shape or form, it is what it says it is. It is an online dating site. However, as you'll see through my review of it, there aren't many things going for it, and there are plenty out there that are less expensive and much better at hooking people up for dating.
As soon as I went online the site encouraged me to fill in their initial free profile, but to use the site at all, it was necessary to upgrade to one of their paid memberships. I was expecting this sort of thing, since any site that involves poker isn't going to give anything away for free. But, since I always allow myself a certain amount for each month's review, this wasn't a big deal…until I saw their pricing.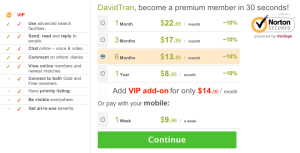 Cost
As you can see, the costs for this site are really high, in comparison to almost every other site I've reviewed so far. I'm not saying that a high cost is bad in and of itself, provided you get a lot to make the price worth it. But at $22.95 a month, what PokerRomance serves up just ain't worth it. I suppose that if you wanted to commit to a year with this site, the costs make sense, but when you hear what I have to say about the site and it's down sides, you might not want to tie yourself into such a long time frame!
Pros
PokerRomance is just like almost every other site out there, in that they have a feature that lets you search through local singles looking for dates. The interface is pretty basic, but its design is pretty good. There are slicker sites out there, but this one obviously had some money and designers behind it. The site also has a feature where they inform you about each member that is having a birthday on the day it occurs. I wasn't sure whether to include this as a pro or con, since on the one hand, I'm sure you'd get a lot of emails and date requests on your birthday. But then again, do you want to get all that crap on your special day? I wouldn't.

The search feature on PokerRomance is one of the more advanced in the game, because you can search for terms that a lot of other sites don't include. You can search for members that re online, or new to the site, or VIPs, or like I mentioned above, birthday people.
The site lets you choose between emailing or live e-chatting, which is nice. And, it lets you suggest people to other members, if you think you've found someone that a friend of yours might be compatible with. Since I didn't have any friends currently using the site, this was particularly useless to me, though.
Cons
Well, I'd say that the biggest problem with the site is that it has nothing to do with poker. You'd think that with such high costs, maybe you'd get some chips in their online games, but there aren't any games! I wanted to at least be able to play poker with some of the women that I was considering dating, but that isn't an option on the site. in fact, I think that the site doesn't have anything to do with poker, they just wanted to cash in on the game's exploding popularity. This was a big disappointment!

As I mentioned earlier, the site is also very expensive. If you want to commit to the year, then the price isn't too bad, but for just a month, it's one of the highest I've reviewed. This wouldn't be so bad, like I said, if the site had a bunch of great features, but it doesn't. In fact, the membership was pretty low too. It's a newish site, so that wasn't a  big surprise. But a lot of the members had no profile pics, which led me to believe that they're probably fake profiles meant to boost membership numbers.
The initial free membership is pretty limited too, compared to other sites. They really push you into paying for a paid membership hard. This sort of strong arm salesmanship was a big turn off to me.
Bottom Line
All in all, I would avoid PokerRomance. As I outlined above, the costs are way too high for a site that has such a limited amount of features and functionality. And if you were considering this site because you're a fan of online poker, than forget it! The site has absolutely nothing to do with poker, online gaming, or anything like it. It's like me starting a dating site called CatanRomance because I wanted to lure in all the other nerds out there that like to play Settlers of Catan, but then have nothing to do with the game on the site. It was disappointing and felt like a betrayal, to be honest. Plus, the membership is low, due to the site's novelty. In poker terms, I'd have to say that this site is a complete bust.