Review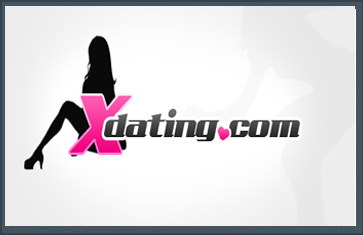 Today's website up for review is xdating.com.I'm not gonna bulls**t you on this one, it was pretty disappointing. Not Zoosk disappointing, but close.
First Impression
It had a pretty quick signup process, but I found it amusing that they actually had a statistic explaining that users with a profile pic 'get 10x more action.' What is this statistic even BASED on, anyways? And realistically, how can they prove that you'll get ten times more action with their site than say, another dating site, or on your own?
The signup was ridiculously easy, and there were no required blanks to fill in or profile photo uploads. Sorry, but in my personal opinion,at least one blurb about yourself should be mandatory upon signing up. If you just want to view x-rated pics, I can point you  a more appropriate site here. But if you are looking to at the very least hook up with someone, how can they find you a match if they have no criteria to base it on? Why are BOTH pics and blurb optional? Ok, so you have to have a minimum of five words, that's still not really enough.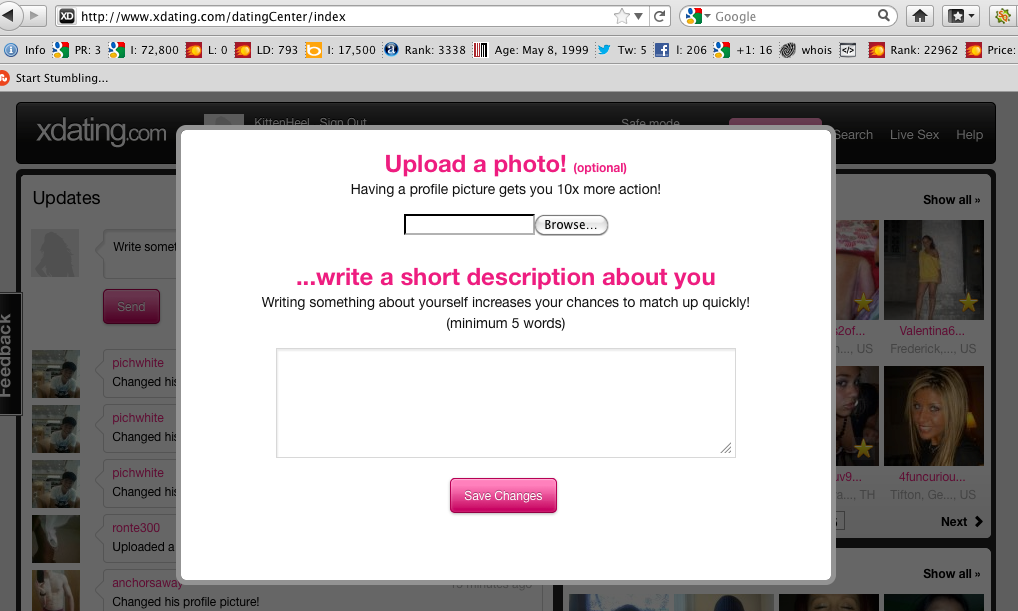 After signing up, I right away have an email in my account saying I am one of 100 random users/month that receive a free upgrade to premium membership for 4 months. Automatically suspicious. Also why did I receive it twice?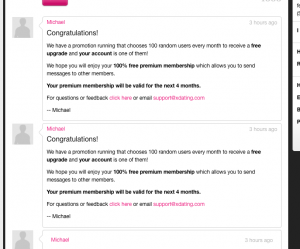 Not off to a good start, Xdating….
Clearly this is more of a hookup site than a long term relationship kind of place, and not an impressive one at that. If you are looking for more of a relationship match site, skip this one.
Cost
Free to join, pay to upgrade *accepts all credit cards or debit cards with Visa or Mastercard logos*
29.95/month
59.95/ 3 months, and after expiry, can renew at $19.98/month
Benefits of premium membership:
Send private messages to all users
Post updates on your profile
Appear higher in searches with star icon
Full access to video section
Pros
Starting with a straightforward profile, you then have easy navigation to your homepage where you can utilize some straightforward searching and toggle Safe Mode on or off for pic viewing. (When Safe Mode is on, any naughty pics show up as a grey box). The profile layout is decent, having your location on a map is definitely a different touch. Another thing that stood out to me was the ability to upload pics by email, for those who are on the go but looking for matches.
Cons
When I click to search for matches, the html layout broke repeatedly, causing me to refresh. Speaking of search options, the searches arent automatic, so you have to fill in each criteria by yourself. What's the point of paying for a dating site when I have to find my matches on my own? I'd be better off in a bar or on Craigslist. Don't forget this site also has Recurring Billing. Which basically means if you sign up for a 3 month contract, you'll be renewed for another 3 months unless you specify otherwise in advance.
Bottom Line
Well its been a few days since I have signed up, and I'm pretty sure all the emails I have gotten are fake, they are very generic messages. After some googling, I find that I'm not the only one who got a lot of emails after initial signup. Thankfully though, I didn't pay for a membership like I normally do, because after those users paid the messages dried up completely. Myself, I initiated 7 contacts, only got 3 responses, one of which was a bot. The other two fizzled out pretty quickly when I found out one was a single mom of 3, and the other had 2 cats. No bueno.
Basically, if the rumors aren't true that some of the profiles are fake, and you are just looking to have a brief fling, then have at it. Just to warn you though, if an experienced guy like ME has trouble getting it in on this site, the Average Joe has NO chance.
Reality, didn't even see a member in person.