Review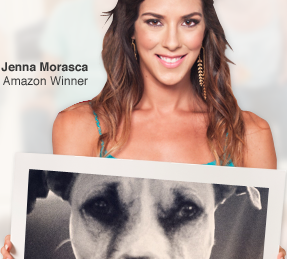 YouMustLoveDogsDating Review
YouMustLoveDogsDating is the new-ish online dating site that is geared to connecting singles that are looking for new dating possibilities and possible relationships based on the most important single element of compatibility there is: whether or not you happen to enjoy animals of the canine variety.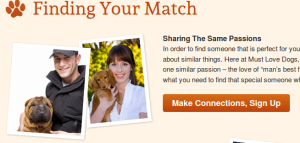 In case you missed my facetiousness there, let me put my opinion about this site another way: basing your entire match making in your internet dating on a love of dogs is silly. Sure, common interests are important. But no one interest, let alone the irrelevant characteristic of liking dogs as pets, can bring you a good experience when choosing an online dating service. It reminds me of the site I reviewed called FindYourFaceMate, where the entire site and search engine revolves around finding you matches based on the fact that the person has a similar face to you.
Ridiculous, right? But still, as a social scientist of sorts, I went into trying out YouMustLoveDogsDating with an open mind. After all, I like dogs just fine. I don't own one, but I figured I'd fib about that during the month I was reviewing this site. If I needed to produce a dog, plenty of my friends and neighbours have them and assured me that I could borrow them whenever I needed them. So let's get dating doggy style!
First Impressions
The first thing I saw when I went onto their front page was was the familiar face of that super hot girl that won one of the more recent Survivors. It was the one set in the Arctic or Amazon or Samoa, or wherever. Her name is Jenna Morasca and she's all smiles with a dog in her lap. Apparently the million dollars she won from the show wasn't enough for her. Now she's got to whore herself out as the spokeswoman for this sill site. I'll bet that's not even her dog in her lap. Some model agency dog they rented because she doesn't have a dog, or she does, but it's one of those dogs that are super ugly. Yes, I said it. Some dogs are ugly. I'm looking at you, Peruvian Inca Orchid Dog.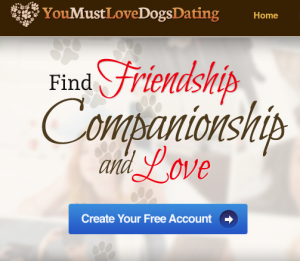 The site itself is pretty slick, and obviously has some money behind it. When I start to talk about the costs of membership, you'll understand where they're getting all that money for. Anyway, the initial membership is free, and it took me about twenty minutes to fill it all in. A little tedious and yet still not very comprehensive. But after I was done, i was looking forward to starting to look for women in my city that were big dog lovers. Although I walk by a dog park everyday near my home, so it would have been just as easy for me to go in there and meet women, but I digress.
Pros
To its credit, this site has a lot of great features. Some of them are kind of ridiculous, if you see things like I do, and believe that compatibility should be based on more than a love of dogs, though. For example, when I filled in my profile, I also had to fill in the information about my "dog". In fact, a lot of the initial profile is all about your pet. They have a good functionality in their photo gallery, where I was able to upload pics of me and my dog. A cool thing about the site was that they allow you to record an audio introduction for your profile so that people hear your voice along with reading about you. You can also watch your online profile statistics move as more and more people check out  your page. This lets you know if something is getting a lot of attention, and what is not. That's obviously handy when you're constantly trying to update your profile to get as many people looking as possible.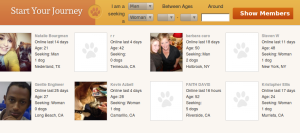 The site also lets you "star" the profiles of people  you find most interesting, which is like a bookmark for you in case you surf and use the site and forget what you've done the night before. Especially ahndy if you use sites like this when you're a little drunk, which I was from time to time. Finally, the feature which I liked was that I could link my profile on the site to my other social media sites. This was a good way for women that were interested in me to see my Facebook, Twitter, etc. accounts to get a more well-rounded idea of what I'm like, interests I have, and where I like to go. Frankly though, that the site has to use other sites to do this was disappointing especially considering the cost.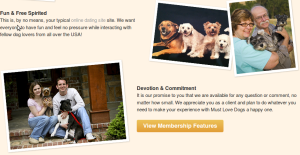 Cost
$39.95 per month
$79.95 for 3 months
Cons
Well, I suppose you know my major problem with the site in that basing compatibility on just one thing, especially something as trivial as enjoying owning a dog as a pet, is ridiculous. Compatibility is a many faceted thing and this site ignores that. Plus, it is one of the most expensive sites out there. While it's design is slick and it does have a lot of good features, there are comparable sites out there that are much less expensive. Another problem is that with the free initial profile you can only view up to 15 people, basically forcing you to upgrade. Over the month, I sent out about 98 email to women I wanted to date, and ended up going on 22 dates altogether. This is an average amount of dates for the time, effort and money I spent over the month. Plus, the women I dated weren't too in synch with me, which I figured since my life doesn't revolve around my dog.
Bottom Line
This site is not worth your time or money. Unless your whole life revolves around your dog, and that's all you want to talk about on your dates. In which case, you would not be barking up the wrong tree. Ew, that was ruff.